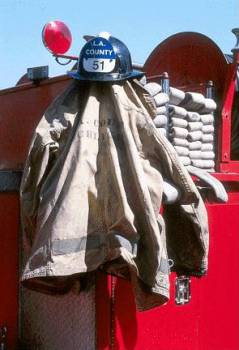 New! 11/07//07


Retirement
As the small gathering at the station was about to end, Hank excused himself and made his way out into the bay and slowly walked over to the engine. Walking up beside of it, he couldn't help but rub his hand over the smooth red medal...the dials...the knobs...the gauges...and knew that he would never ride on Big Red again. Tears started to come to his eyes as he walked around the front and stepped to the passenger's side door, placing his hand on the handle...Hank opened the door and climbed up in his seat.

Sitting there, he remembered the day he took over at 51's, after Captain Smith's transfer had been okayed so he could work at a station that was closer to his home and family. He remembered how uncomfortable and nervous he had felt when he walked into the station that day. When his new crew gathered in the bay for roll call, he became even more nervous.

******

"Good morning men, I'm Captain Stanley...Hank Stanley."

He listened as the men replied, then he got down to business.

"I know that we all are going to have to get used to one another...I'm no Captain Smith, but I hope that we can all work together and eventually become friends. I'm not a hardnose, I'm all for kidding around and having fun...as long as it doesn't get outta hand or interferes with the job."

He remembered how the men all shook their heads in agreement...especially Johnny and Chet, and the look the two men exchanged with one another.

Looking at the two men, Hank said, "Gage...Kelly...Captain Smith let me in on some of the stuff that the two of you do..."

Stanley's raised eyebrows and the look on his face, told the young paramedic and the firefighter that they had better lay low...at least for a while.

"Right, Cap." both men replied.

******

Coming back to the present, Hank couldn't help but let a smile come to his face...he had soon realized that Johnny and Chet were a real asset to the station, more than he could have ever imagined...even if the two of them did get on his...and everybody else's...nerves once in a while.

He also thought back to the times when one of his crew had been injured on the job...they had all had some sort of injury, including himself...everyone except for Mike. He remembered when there was an explosion at one of the hospital's that had to be closed down after an earthquake...some young people were trying to burn it down and Chet had broke his shoulder.

He remembered the time when he and Marco had almost been electrocuted and the time Roy was but Johnny couldn't help him...he was still in the burning house, trying to rescue a victim. And then, there was Johnny...a young free-spirited man, someone that he thought of as a son, the youngest member of his crew...and a bit accident prone...or at least, that's what they all called him.

Turning in his seat, he looked out the back and remembered when the Station had been called out to an accident where three teens that were speeding and had gone over an embankment. After the run, Roy went with the victims in the chopper and before they left, Johnny had to go back and retrieve a handie talkie that he left at the car. Just moments later he heard Johnny call for help... he had been bitten by a rattlesnake.

After getting his young paramedic topside, and carrying him to the back of the engine, he remembered how Johnny had to treat himself and how he and the rest of the crew rushed, as fast as Mike could make Big Red go, to get Johnny to Rampart in time. As he continued to look at the hosebed, he could see Johnny lying on it...fighting for his life, and Chet, trying to do all he could to help his friend until they could get him to the hospital. He, along with the rest of the crew, was relieved when Chet came into the cafeteria to tell them that Doctor Brackett thought that their friend would be alright.

As Hank turned to look back out of the front window, he saw his crew...his good friends...standing in a line in front of the engine...Kel, Joe, Mike and Dixie were standing off to the side, watching. As Roy looked to his right at the men, Hank saw them nod their heads...looking at their retiring Captain, the men came to attention, and saluted him. Getting out of Big Red, Hank stepped in front of his men...returning the salute.

"We're gonna miss ya, Cap."

"And I'm gonna miss you guys, Roy. Be careful out there."

THE END


Hanging It Up
by Purry

Los Angeles Fireman, Chester B. Kelly, who has spent most of his firefighting career at Station 51, announced today that he will retire.

"This is a difficult moment for me, but it's also an exciting moment for me," the 33-year-old hose man said, his voice wavering. "I'm looking forward to the future and a new chapter in my life."

The "Phantom", known to a select few, will be hanging up his turn-out coat and helmet at the end of his shift on Feb 6th.

Kelly said he had been thinking about his future for some time, "but the decision to retire just came recently."

"My mind and my heart wanted to keep being a firefighter," he said, "the decision to move-on had been a struggle."

Kelly made his firefighting debut with Station 51 in 1971 and worked almost exclusively under the command of Captain Henry (Hank) Stanley.

"He occasionally was slowed by injuries, but always bounced back," says Stanley.

In November he tried out for a series of television commercials, which he got, signed a $3 million, one-year contract with an additional bonus based on sales profits.

His retirement announcement comes on the heels of another injury to his friend and nemesis, John Gage. "It's gonna be difficult to leave knowing Johnny's been hurt, again. We look out for each other. We, all us guys, are family," Kelly disclosed.

It's been a whirlwind year for Kelly, not only did he get a starring role in the new "Tidy Bowl" commercials as the suit clad commentator rowing around in a commode tank but also included a new three-year contract worth $1.1 million, as a new version of Mr. Wiffle for a popular brand of toilet paper.

He's been quoted as saying, "Hey man, I was born to represent toilet products."

Kelly graduated from high school in Los Angeles, in 1964 and attended the firefighting academy. The LA County Fire Department signed him as a green-horn in 1967 and he made his firefighting debut on Sept. 19, 1967.

Kelly lives in Carson and hopes one day to find Mrs. Right. He said that firefighting will always be in his blood but toilets was his destiny.

Captain Stanley concurred with Kelly's quote.