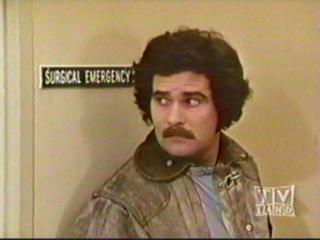 Friendship
By Audrey W.
He stood in the hospital corridor and glanced back over his shoulder at the Surgical Emergency Room door behind him, a concerned expression on his face. On the other side of the door was someone he knew rather well, whose life had just been saved by some of the medical staff at Rampart General.
It wasn't the first time he'd nearly lost his co-worker and friend. Unfortunately he knew in their line of work, it probably wouldn't be the last.
It had been the close calls that made him realize just how good of buddies they were. For now, he just had to give thanks that once again things looked like they would turn out fine and the two would be back to annoying each other, occasionally playing pranks on one another, all the while knowing the bond of friendship was there.
Roy DeSoto's voice broke into Chet Kelly's thoughts.
"Hey, don't worry. Remember, Johnny's gonna be okay. He'll be here awhile, out of the squad for a couple of months. But he'll be okay."
Chet gave a slight nod.
"Yeah. . .yeah, I know," he quietly acknowledged.
He wondered if what was said was to remind him or for Roy to assure himself. DeSoto and John Gage weren't just partners, but the best of friends as well.
After one more glance at the door by both, they were headed toward the elevator to take them to the main floor of the hospital, each grateful they were able to hang around just long enough to get word on John in surgery before they needed to return to duty at Station 51.
It was times like this that the close friendship between themselves and the rest of their crew was reaffirmed as well. A brotherhood of sorts.
*Click above to send Audrey feedback