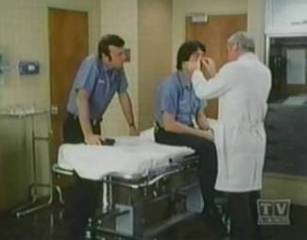 New! 04/05/12
Early Humor Comes Late
By Audrey W.
"How'd you do this again?" Doctor Early asked as he examined John Gage's sore nose. The tip and bridge of it had both been of some concern.
"The door ran into me."
His partner Roy DeSoto leaned with his hands on the exam table John was seated sideways on, as the doctor gently palpated the affected area.
"How's it look?"
"Like he got a lucky break with it not breaking." Early then addressed John again. "You mean you ran into the door, right?"
John shook his head as much as he could with the doctor's hands still on his face. "I was about to leave the locker room when the door flew open and hit me. Marco was on the other side. I guess I'd leaned forward a bit just at the wrong time."
"Most people pull back when a door suddenly opens toward them."
"I did. I did pull back, Doc. Just not quick enough to avoid a connection," the dark-haired paramedic explained. "It all happened so fast."
"His reflexes must be slowing down in his 'old age'."
Gage furrowed his brow in mock annoyance at Roy's remark. After all, he was only twenty-eight. "If I'm old," he finally retorted, "What's that make you?"
Roy was a few years older than him, and now seemed as good of time as any to remind him.
"Wiser."
Doctor Early laughed lightly while John rolled his eyes.
"Right."
"Who's the one that got hit by a door?"
Roy knew by the silent response he'd won the exchange.
"Why was Marco in such a rush?" The doctor wondered.
"Oh. To tell me the picture I entered in a monthly contest with the fire department won first prize, which is twenty-five bucks. The announcement came through on a bulletin he'd just put up on the board at the station."
Joe Early pulled back, having completed his examination of Gage's nose.
"Everything looks okay, Johnny. Just try to stay clear of swinging doors in motion."
"I think I'll tell the guys to open 'um with a little more caution."
"That'll work. So, what was the picture of?"
"The smoke plumes in the sky around sunset during that huge brush fire a few weeks ago. I had my camera in the squad when we got called out, so when we had some brief downtime, I decided to snap some pictures."
"He and another fire fighter both captured some cool shots. Just the other guy's picture came in second."
The doctor smiled. "In other words, you not only 'won by a nose'," he said as he emphasized John's luck his didn't get seriously damaged. "But you had a 'photo finish' as well."
Neither paramedic could hold back their groans.