<![if !vml]>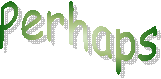 <![endif]>
By Audrey W.
Clad in boxers and a robe, Roy DeSoto made his way to the bedroom closet after having taken a morning shower.
He opened the door and eyed the clothes hung neatly inside, just within reach. He then glanced down at the floor where shoes were on a rack underneath the clothing, most of them belonging to his wife Joanne. There was a cardboard box of stuff Joanne had gathered together so far for the Salvation Army, the process still on-going. A footlocker of keepsakes was on the other side of the shoe rack, as well as a duffle bag containing his old Army uniforms and combat boots. Somehow he hadn't been able to let go of those yet, although he'd been out of the service for quite awhile. Their bowling bags took up space too. But what kept him from being able to step into the partial walk-in closet wasn't those things. Sure they contributed to the problem. But it was the numerous Christmas presents gathered just inside the doorway that they and their parents had gotten for Roy and Joanne's two children that caused the over-crowding and blockade. Some wrapped, some not yet.
As he reached to grab a shirt off one of the hangers, Roy wondered if they might've gotten slightly carried away in making their kidsí every wish for under the tree come true this year. . .
Merry Christmas!
*Click above to send Audrey feedback