In the EMERGENCY! episode 'Trainee', Johnny chases after a purse snatcher. He finally manages to grab the purse from the guy, only to find out he's left in a strange yard with a strange dog and it doesn't sound happy to see him. How did Johnny get away from the dog?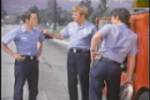 *Click on the picture above to play the video
*You may need to update Windows Media Player to view this
"Grrrrrrrrrrrrrrrrrrr" by Whisper
Trainee Dog Challenge by Ziggy
The Way It Mighta Been by Marty P.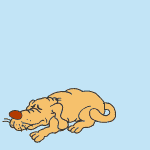 *Click on the dreaming dog to go to Guest Dispatchers
*A huge thank you goes to my husband Chuck for making the video clip featured on this page. Love ya! :o)